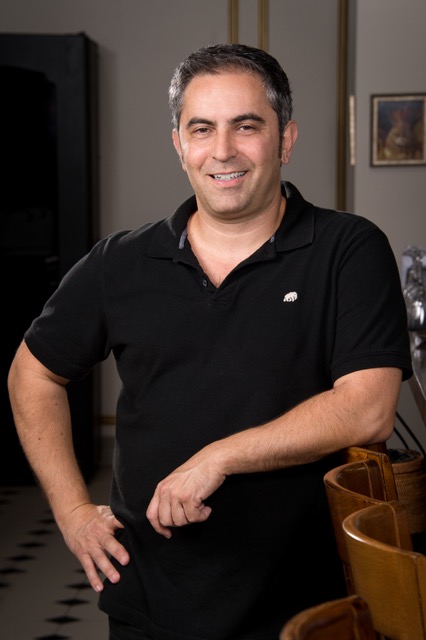 The Parisian Restaurant & Wine Bar is a French brasserie located in Jupiter, Florida. Opened in December of 2015, it is the brainchild of owner Tarzi Cenador. The design and creation of The Parisian is an attempt to bring our patrons a slice of Paris.
Born and raised in Paris, Tarzi grew up dining at the local brasseries and boulangeries. He savored fresh baked baguettes, produce, game and desserts --as well as the creations his parents made in their home kitchen.
His father was a working chef in Paris, as was his Uncle to the Prime Minister of Spain. Although surrounded by vestiges of culinary experience and restaurateurs, Tarzi was not encouraged to pursue the profession as a young man.
Instead, he attended International Business School in Paris, and later pursued his dream of becoming a pilot. Later, he worked as a flight dispatcher in Biarritz and in New York City for Air France. Upon his departure he stopped in Jupiter to relax on his way home to France. A vision of his own creation remained in his mind while he managed a local French restaurant and built his following. The rest, as they say, is history.
Our Team
Our team consists of a classically trained French Executive Chef and a local talented sous chef, as well as our prep team. We pride ourselves on a team approach without placing an emphasis on being "chef-centric."
Inside the restaurant we feature a custom- made wood bar for dining and wine tasting, as well as our lounge area, featuring comfy sofas and tables. Separated from the bar area by etched glass and brass railings,  the dining area is framed by mirrors and crown molding. The black and white tile floors compliment the banquettes and booths for a classic yet modern look set off by the lighting fixtures and wooden wine shelves filled with wine.
If you crave Mussels, Steak Tartare, Duck or Halibut, we have it. Desserts and all of the menu items including our frites --are freshly made in our kitchen.The wine list includes exclusive French wines, California and Washington wine. We also offer a full bar with handcrafted cocktails.
Fresh organic vegetables are featured in all of our offerings as well as a vegetarian plate. Desserts are not to be missed, as they are made fresh daily. Pavlova or Profiteroles among other choices. 
We are open for private parties and events, which can be arranged by calling the restaurant. We hope to fulfill your dreams of eating in Paris by experiencing our restaurant!  Please stop in to say hello or call for a reservation.